Vacation Bible School
Event Registration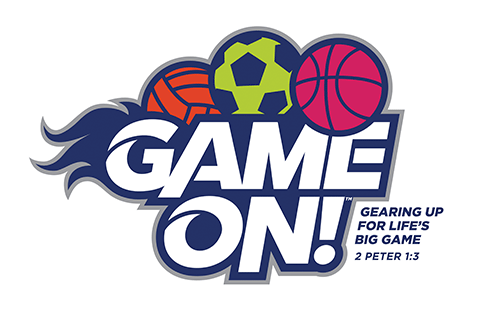 VACATION BIBLE SCHOOL 2018
AT MEMORIAL BAPTIST CHURCH
DATES:
June 27 - July 01, 2018
Wednesday - 06/27/2018 - 5:00 PM - 8:30 PM
Thursday - 06/28/2018 - 5:00 PM - 8:30 PM
Friday - 06/29/2018 - 5:00 PM - 8:30 PM
Saturday - 06/30/2018 - 5:00 PM - 8:30 PM
Sunday - 07/01/2018 - 11:00 AM - 2:00 PM
LOCATION:
Memorial Baptist Church
12651 Clinton River Road
Sterling Heights, Michigan 48313
INFORMATION:
YOUR WHOLE FAMILY IS INVITED TO VACATION BIBLE SCHOOL 2018!
It's time to Gear Up for Life's Big Game! Athletes (your kids) are under so much pressure to perform well, be the best, balance crazy schedules and excel in every arena. From that vantage point, life's big game can seem like no fun. But when we step back, we realize that the goal is not competing in our own strength, God has already given us everything we need! He's given us His complete Word as the ultimate playbook. He's given us Himself, which gives us reason to celebrate. He wants us to join His team, to train hard, to celebrate our salvation and to encourage one another.

WHEN: June 27-July 1 (Please note the days! Wednesday-Sunday)

WHAT: VBS is a FREE 5 day adventure for the whole family! Athletes will make their way through Bible Study, Missions, Recreation, Crafts and Music.

WHO: Preschool-Adult (including YOUTH PROGRAM and Adult Class)
PLEASE NOTE: For the safety of ALL children, Adults and Youth are not permitted to rotate with children unless trained by MBC and pass a background check. An adult class, led by Pastor Herb, is provided for your convenience if you choose to stay on campus during the program.
All Memorial Staff is trained and cleared to work with children. For questions or concerns, please contact us directly,

SCHEDULE: June 27-June 30 (Wed-Sat)
Dinner served every evening from 5:00 - 6:00pm
6:00-8:30pm VBS Program

Please join us for family fun day - Sunday July 1 from 11am-2pm
11-noon Worship Rally-VBS Music, Missions, Day 5 Video, Day 5 Bible Study
Program for the whole family, lunch will be served, Bounce Houses, Popcorn, Nachos, Snow Cones and the VBS Store!
Hope you will join us for all the fun!
CONTACT US:
Phone: 586-739-2132
Website: Memorial Baptist Church